Jan Doms Mushtopia - Lodz, Yerevan & Gyumri 2019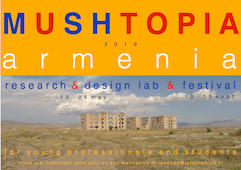 The project Mushtopia by Jan Doms consists of three chapters and the prelude which are linked together coherently and are of particular importance for young generations working on their future.
Prelude: JAN DOMS'CASIO - intercepted light A.I.R. Galeria Wschodnia Lodz 01/03 - 30/04/2019
Jan Doms creates and presents this new video animation in Galeria Wschodnia / Book Art Museum in Lodz, Poland. It's an abstract story to connect Tilburg (NL), Lodz (PL) and Gyumri (AM).
Jan Doms collaborates with Iwona Rozbiewska (montage), Agnieszka Ziemiszewska (typography) and Ernst Bonis (electronics).
Chapter 1:
Mushtopia Research and Design Laboratory in the Emili Aregak Center Gyumri 13/05 - 24/05/2019
Jan Doms with support of Mkrtich Tonyan ACOSS Yerevan, Hrach Vardanyan ACOSS Gyumri branche, Ashot Mirzoyan City Research Center Gyumri, Tigranuhi Akjopayan Emili Aregak Center Gyumri and many others.
As a follow-up to the successful Urban Design Laboratory Gyumri 2015, Jan Doms organizes and supervises the new Mushtopia Research & Design Laboratory at the Emili Aregak Center, located next to the Mush district. Mush is a deserted, never-finished district of the city of Gyumri for which new utopian ideas have to be developed.
The laboratory is open for young professionals and students to participate. You can express your interest by sending your CV and motivation to jandoms@lefdynamics.nl. You will then receive all information about the content and design.
Chapter 2: Jan Doms - Mushtopia exhibition in ACCEA Yerevan 12/07 - 21/08/2019
At the invitation of Edward Balassanian(board), Gagik Gharareh (director) and Gor Yengoyan (staff) of the Armenian Center for Contemporary Experimental Art Yerevan (ACCEA / NPAK) Jan Doms shows his free and applied works in the Grand Hall, the exhibition halls and the theater.
Part of this presentation is the extra exhibition 'Mushtopia Laboratory' in which the ideas and designs of the participants of Mushtopia Research and Design Laboratory are shown.
Every week in the performance program Mushtopia Showtime you can admire the results of the collaboration of Jan Doms with the Armenian artists: Alex Vartan Gubbins (poet), Hasmik Tangyan (performer), Vardan Harutyanyan (sound artist), Anna Vahrami (multi media), and others.
Chapter 3: The Mushtopia Festival in Mush Gyumri 13/09 - 15/09/2019
The idea behind the Mushtopia Festival is to temporarily revive the deserted Mush district. The program will be based on the results of the Mushtopia Laboratory and the collaborations with Armenian artists in ACCEA.